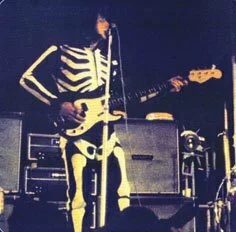 He should have just played lead guitar, but thank God he didn't. John Entwistle took the unloved role of playing the bass in a rock & roll band and turned it into an art form. He had to keep up with Keith Moon, so his bass lines were never going to be ordinary and he developed a fluid, outrageous, and at times ridiculous style that technically amazes but, more importantly, is also very funny. Entwistle's dark humour underpinned all his work and prevented it from spinning off into rock solo excess, though in later years he did slip into noisy, long solos that wandered about aimlessly as deafness and ageing fingers took their toll.
In his heyday he was unmatched. He stuck a ground-breaking solo in 'My Generation' back in 1965 and put another into 'Substitute' by simply turning himself up during the recording process at a time when they only had one shot at recording the right version. He played LOUD and frustrations about having to turn down with The Who, and his one song per album allotment, led to him forming his own band in the early seventies: John Entwistle's Ox.
With his own band he could be as loud as he liked. The version of Buddy Holly's 'Not Fade Away' they re-arrange here has the bass to the fore, drowning out the lead guitar, and goes crazy towards the end. I love it. I listen to recordings like this with a huge smile on my face. I don't think you're supposed to worship the speed of the fingers as much as revel in the performance. Like Harpo Marx's piano routine, John Entwistle played to the audience. I miss him.
Thanks for listening
Head Chef