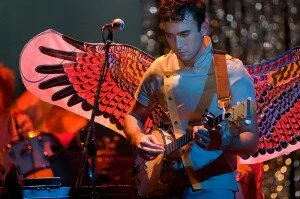 Sufjan Stevens is an internet phenomena similar to, and appearing at the same time as, the Arctic Monkeys. I've got no gripe against the Arctic Monkeys, I like them, but I think their promotion turned out to be pretty conventional in the end. What happened with Sufjan Stevens fifth album Illinoise, in 2005, was unprecedented. The blogosphere leapt into overdrive and an artist found a huge international audience by online word of mouth and truly managed to keep his independence.
Anyone who visits The Hype Machine, a site that tracks music blogs and what's being posted on them, may remember a time when Sufjan ruled. In 2005 bloggers competed to find every note he'd ever recorded and get it out there first. He was such an internet sensation that the backlash was almost as immediate as the praise. Yet, in that year alone, his album ("Sufjan Stevens invites you to: Come on feel the Illinoise" to give it its full title) sold over 100,000 copies. Not bad for an independent label run from a single office in Michigan.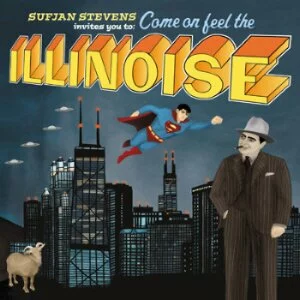 Illinoise was the second Sufjan album based on a U.S. state, part of a planned series of fifty that began with the 2003 album Michigan. He promoted the album with a long tour and avoided appearing on profile raising TV shows like Letterman and Conan O'Brien. He hardly needed it. That tour is where this week's mp3 comes from. It is that prized truffle amongst music nerds, the unrecorded song that has only been performed live. In this case a song called "Majesty Snowbird". It fits right in with the rest of the album and it's a testament to the man's talent that his off-cuts match the quality of his released stuff. In fact, 2006 saw the release of an album of out-takes from Illinoise called "The Avalanche" that's almost as good as its predecessor.
It's hard to classify a man who has released songs that stretch from Christmas carols to electronica. He plays Guitar, Bass guitar, Banjo, Sitar, Piano, Xylophone, Vibraphone, French Horn, Oboe, Drums, Recorder and sings. He also wears his Christian spirituality on his sleeve. It's an odd, confusing, and complex cocktail, but in practice it's sublime. His music soars from orchestral strings to acoustic intimacy with a bit of grungy guitar, Steve Reich, and even salsa thrown in.
Have a listen and, if anybody hasn't heard Stevens before, leave a comment. I'd be interested in your opinions.
One last obeservation on Sufjan and that's his song titles. Here's a couple of examples:
"The Black Hawk War, or, How to Demolish an Entire Civilisation and Still Feel Good About Yourself in the Morning, or, We Apologise for the Inconvenience but You're Going to Have to Leave Now, or, 'I Have Fought the Big Knives and Will Continue to Fight Them Until They Are Off Our Lands!"
or how about this one?
"To the Workers of the Rock River Valley Region, I Have an Idea Concerning Your Predicament, and It Involves a Shoe String, a Lavender Garland, and Twelve Strong Women"
Strangely they're a good indicator of his music, though probably a pain for whoever designs his CD covers.
The follow up to Illinoise is long overdue.
Thanks for listening
Head Chef.
To download right click here and 'save target as…'
Got an mp3 you need to get off your chest? Email me: [email protected]