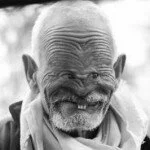 Yessir, I remember when lil' Chef came to me back in '78. He'd seen some Eyetalian movie with a couple a' spidey-legged continental types doin' the big jiggy and wanted to get a bit of the action for his birthday – poppin' his cherry for the big 1-0. I had to set him straight. I said "nossir, I 'aint no whoremonger" and gave him a clip for his trouble but he said "no, no, Old Man Roomy, I don't wanna do it with a lady. I wanna do it with Godzilla."
Indeedy, young Chef had got it into his mind to mate with a block-bustin', moth-wrestlin' alien T-Rex and no mistake. I told him I didn't have access to no fire-breathin' demon, but he told me to rustle up a rubber suit and stick it on any ol' female and that'd do. So long as her fins lit up when he poked her in the mimsy. 
 So I found me a woman – Madge, her name was, from down the Bingo – and I gave her the suit to live with for a few days, just to get the feel of it, y'know. I gave her ten bucks too, with another fifty on a promise if she showed lil' Chef a fine time. Anyhow, turns out she died that night testing the suit on her husband. He poked her in the mimsy and she was fried by her own fins. Fire guys put it down to loose wires, and the fact that she was 72 with a dicky ticker. The husband didn't notice she'd died, though, for a day or two. Said he thought she was just having a long lie down. Jesus, when I got that suit back it stank so much of Madge's ripe butt I had to throw the whole enchilada in the garbage.
Lil' Chef was mighty disappointed, but I had me a back-up plan. I knew he was obsessed with that animal TV show All Creatures Great and Small, starring Doctor Who Jim Davidson – 'specially the scenes where the guy's got his arm up a cow's steamy ass. So I got him a cute lil' Fresian by the name o' Daisy. Daisy n' Daley. It was Kismet.
So the next Sunday's 'lil Chef's birthday and I go round his house with David Essex. Dave's a top guy, and owed me a thousand bucks for a horny badger, so he'd agreed to distract the oldies with an acappella rendition of  'Silver Dream Machine' in Head Chef's kitchen. Meanwhile I was pushin' Daisy into the lounge where the birthday boy was waitin'. I tell ya, when their eyes met it was like a Kentucky lightnin' storm. Turns out I'd timed it to perfection, 'cause just then All Creatures Great and Small came on the TV and lil' Chef leapt on Daisy like a mongoose on a cobra, bitin', scratchin', wormin' his way round her back end like a devil possessed by some insatiable bovine lust.
The whole thing might have lasted only a minute, but it was a beautiful spectacle I'll hold in my mind's eye till the day I die. Heck, I even taped it so I could let it's wonder revive me whenever this crazy world laid me low, so go ahead, knock yourself out, sit back and listen with respect & awe to the precious moment our lil' Head Chef became a man.
Happy Birthday big fella, and be speakin' to y'all again soon. Crooooon.