Mario Bava – the Godfather of Italian horror. The Giallo crime thriller? Bava got there first. The Slasher film? Watch Bava's 'Bay Of Blood' and see where 'Friday the 13th' took its inspiration. A major influence on the look of the planet and crashed ship in Ridley Scott's 'Alien'? Take at look at 'Planet of the Vampires'. Freddy's glove? Check out the killer's glove in that poster and, if you want to see how a comic book movie should be done, 'Danger Diabolik' pretty much nails it.
He was a cinematic all rounder who would light his own films, often with a unique palette of colours, operate the camera and do many of the effects himself. He even stopped production for a day on his masterpiece – 'Lisa And The Devil' – so he could paint a matte. Yes, I quite like him. He was a genius who never made the leap into American cinema that cemented so many other European director's reputations, but in practice he could hold his own against the best of them.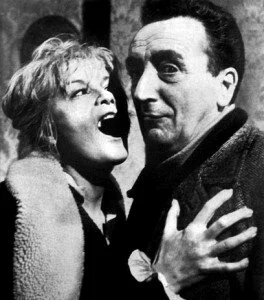 Today you get the Radio ad for 'Blood And Black Lace', Bava's seminal horror set in a fashion house where the models are stalked by a black gloved killer. The ad is for a double-bill with 'Night Of The Living Dead'. Two films that couldn't be more different, but I think make a great pairing. After that I've added Carlo Rustichelli's opening music for 'Blood And Black Lace', which is all bongos, trumpets, and a bit special.
(or right click here and 'Save Target As' to download. iPad and iPhone users can also touch that link to open the media in a new window)
Plus, a cool little clip of Bava explaining an in-camera aging effect. It's in Italian with French subs, but you can get the gist of the technique.
Tomorrow's post will be brought to you by either Dr Jekyll or Mr Hyde. Let's see who turns up.
P.S. We want your real life ghost stories for a podcast, so if you're interested in contributing email them to [email protected]