Suede and Depeche have hardly been slaves to reinvention over the decades, but now they've both made albums that purposefully return to former glories.
Suede – Bloodsports
I think I should confess straight off: I've always hated Suede. I remember walking up to the old Town & Country and seeing the cover of their debut album plastered across the railway bridge on Kentish Town High Road and thinking, God, could the androgyny be any more calculated? And Brett Anderson's nasally wailed sixth form Bowie shadow was an anal prolapse of a personality that couldn't be avoided no matter how many bottles you ground into your eyes - and now he's back, schlepping the same sexually tortured screamer over a guitar thrash straight out of 1993. In fact, Blood Sports is almost a perfect recreation of Suede, which is as it should be, being as they share the same producer, Ed Buller.
But, bizarrely, I don't hate Bloodsports. Much to my own chagrin, I can't deny that it takes genuine talent to squeeze your fortysomething loafers into the deep imprints of your passionate teenage trainers and to step with the same power, the same passion, through the same landscape that you created and obviously still believe in. Brett Anderson is doing this right now, without irony or regret, and it would be churlish to deny him the credit for it. The bastard.
Roomyrating: 7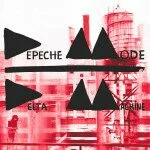 Depeche Mode – Delta Machine
Depeche, by contrast, haven't exactly tried to sonically replicate Violator – they've stuck with producer Ben Hillier – but they've brought in Flood to flip the faders, so it does sound enough like Violator to be considered "an overdue return to form" by anyone tragically non-plussed by their last two albums (i.e. everyone.)
The aural throwback, however, has genuinely galvanised Gore & Gahan, who both sound more committed than anyone ought to be entering their fourth musical decade. Yes, it's obsessed with sin and redemption and vodka/horse/tea addiction in a cracked-black leather blouson way that shouldn't befit men of their age, and yes, it sometimes sounds like someone's just selected 'Depeche Mode' in GarageBand, but this is DM back to what they do best - cramming enormodomes with sex & death as only they can.
Gahan has never sounded better, and the way his voice entwines with Gore's suggests a perfect mind-merge for the first time since Songs of Faith and Devotion – perhaps even more so, considering the pitiful state of band relations in 1992. Thankfully, Delta Machine is the sound of two men drying an ocean of bad blood by just maturing and accepting what the other does best, at last.
So, it's magnificent, but, what with Gore making an album with Clarke and sharing a stage with Wilder, who's to say Depeche Mode's best album isn't yet to come? Bring on the imbecilic rhyming couplets and live drums!
Roomyrating: 8.5