We made it! The final post before tomorrow's podcast. The countdown has been huge this year, with posts hitting 500-600 views a day, so a big thank you to all involved. Tomorrows post will be a recreation of a podcast I used to put out called "The Electric Soup Kitchen" and the Halloween specials were always the most fun. Hope it's not an anti-climax after the torrents of hits theses icons of horror have been getting…gulp!
But on to today and Kate Bush, who must be a horror fan. Her first single "Wuthering Heights" is about a ghost. She samples "Night Of The Demon" on the "Hounds Of Love". Isn't that whole album about somebody drowning and their life flashing before their eyes? Any Kate Bush experts out there? And then there's this song, "Hammer Horror" which according to Wikipedia is:
"…a tribute to Hammer Films, a company specialising in horror movies. The story of the song concerns an actor who gets thrust into the lead role of The Hunchback of Notre Dame and ends up being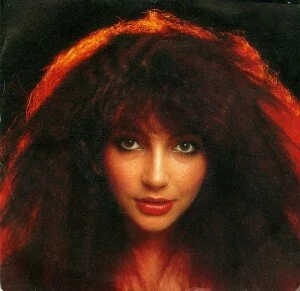 haunted by the jealous original actor, a friend of the song's narrator until the re-casting."
This is a live version from very early on in her career. Ms Bush doesn't tour anymore, and the gaps between albums are getting longer and longer. That's fine, she's a national treasure who's earnt the right to do what she likes. She's also never put out a bad album, so some things are worth waiting for. I have to say though, I prefer Amicus films to the Hammer ones. Sorry Kate.
(or right click here and 'Save target as…' to download. iPad and iPhone users can also touch that link to open the media in a new window)
Come back tomorrow for the return of the living podcast – The Electric Soup Kitchen.
Thanks again,
Head Chef